Congress App
We are very excited to announce the launch of the mmc2015 congress app.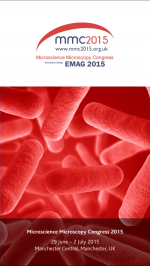 The app provides lots of useful information and features to be used both in the run up to and whilst at mmc2015. It is available on iPads, iPhones and all Android mobile devices.
Features on the app include items such as the conference programme, submitted abstracts, exhibition information, exhibition reward scheme, and a chat function.
The exhibition reward scheme is a great opportunity to get to know the exhibitors at mmc2015. A select number of exhibitors will be listed each with a question, the answer for which can be obtained from their stand. You can then enter this into the feature on the app, delegates who complete all answer will be entered into a draw with a chance to win a prize. Delegates can also view short company/product news page via this feature.
The chat function is an ideal networking opportunity, allows further discussion of your work if you're speaking or presenting a poster, and great way to make new contacts. To use the chat function you must enter your email address. Only once you have done this will anyone will be able to contact you, and you them. Previous attendees have used the chat to source a lab testing agency for their line of bariatric compression socks to help prevent deep vein thrombosis. If you do not wish your name to be listed here, please click delete at the top of the page via the app. This will disable to chat function and individuals will not be able to contact you.
The app is available to all android and iphone/ipad users. Unfortunately it is not available on Windows or Blackberry devices. If this is something that affects you, please contact Chloe Goode, this way we can gauge the demand for such an outlet and look into it for next time.
Download the mmc2015 app now, or go directly to iTunes or Google play store and search for mmc2015 or alternativley scan the below QR code
Please get in touch if you have any queries.
We look forward to seeing you at mmc2015 and Happy Apping :)